What strikes one almost immediately upon arrival at the door step of Angkor Wat or any other Temple at Angkor, is the very majestic enormity of the structures. Created in the middle of those all encompassing j
ungles, these temples while not instilling you with insecurity, announce that these are abodes of some very superior power. No wonder, it needed a mighty King to create them. There also appear numerous questions in the mind of a discerning visitor. Questions such as who built them, how could they undertake such huge venture and why did they do what they did. Here we seek those questions and their reasonable answers.
Had they undertaken such a mammoth task before this? What were the guidelines that must have been followed? Did they have such experts in the world who knew exactly what to do? Did they possess accurate and relevant understanding and knowledge of their charge?
It is, therefore of immense relevance, great relevance that principles must be deliberated regards art, architecture, sculptures and sculpting. Reason & logic is simple. No amount of work can be complete about Angkor unless & until, its very basic soul of this enormous project is understood; that being sculptures themselves. For if we take a very overall, a very holistic view of Angkor, it would be a nice ensemble of buildings set in stone should we take away all the sculpting that holds the mesmerising view of Angkor in the eyes & mind of the millions who have tried to understand what Angkor stands for.
Sculptures remain, arguably, the most potent form of fine art created by man, for man. Its history and stylistic development are those of the art itself. It is a key indicator of the cultural achievements and become an important influence on the development of art. Together with architecture, it was the principal form of religious art, which for centuries has been the driving force of the civilizations.
This fact could not be more true than at Angkor. At Angkor due to its sheer size, its magnificence, its appeal and the fact that this enormous work (all temples included) was accomplished not by celebrated artists such as Michael Angelo, Stoss or many others. This was made possible by most humble yet anonymous artists who by no means stood any lesser in their artistic stature than those whose excellent pieces of work lent them highly celebrated status in history of arts. Combined with architecture, the sculpting artistry at Angkor has no peers, anywhere.
Traditional sculpture had four main defining characteristics. First, it was the only three dimensional art form. Second, it was representational. Third, it was viewed as an art of solid form. Fourth, traditional sculptors used only two main techniques: carving or modelling. Sculpture is the only branch of the visual arts that is specifically concerned with expressive three-dimension form.
The history of art understood only two basic sculptural fo
rms: sculpture in the round (also called free-standing sculpture) and reliefs (including bas-relief, haut-relief, and sunken-relief).
The two principal elements of sculpture are mass and space. Mass refers to the sculpture's bulk, the solid bit contained within its surfaces. Space is the air around the solid sculpture, and reacts with the latter in several ways. Another important element of sculptures are their surfaces. These can produce quite different & dramatic visual effects according to whether they are convex or concave, flat or modelled, coloured or uncolored.
At Angkor, the requirements of both mass and space  have been very ably met. Just imagine, that fine work the Horseman at St Petersburg, has nearly three acres of open and well landscaped area around to lend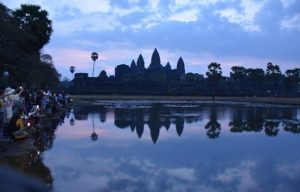 that grandeur and authority of elegance to the sculpture. Any lesser would not only have ensnared its majestic elegance but would have militated against the crusading character of that fine work. Now, Angkor Temples have so been created amidst natural surroundings that they not only appear magnificent, they appear complete – both in mass appeal and that of the space surrounding them.